We've taken 2 of our traditional spring weekend programs – PeeWee & Parents mini-camp and Dad's & Kids Fishing weekend – and blended them into one. Families share one accommodation and introduce their 6-8 year olds to the fun of an overnight camp experience through the PeeWee program. Parents can then decide who wants to join in the fishing fun. Fishing not your thing? No problem! There's lots to enjoy at Camp!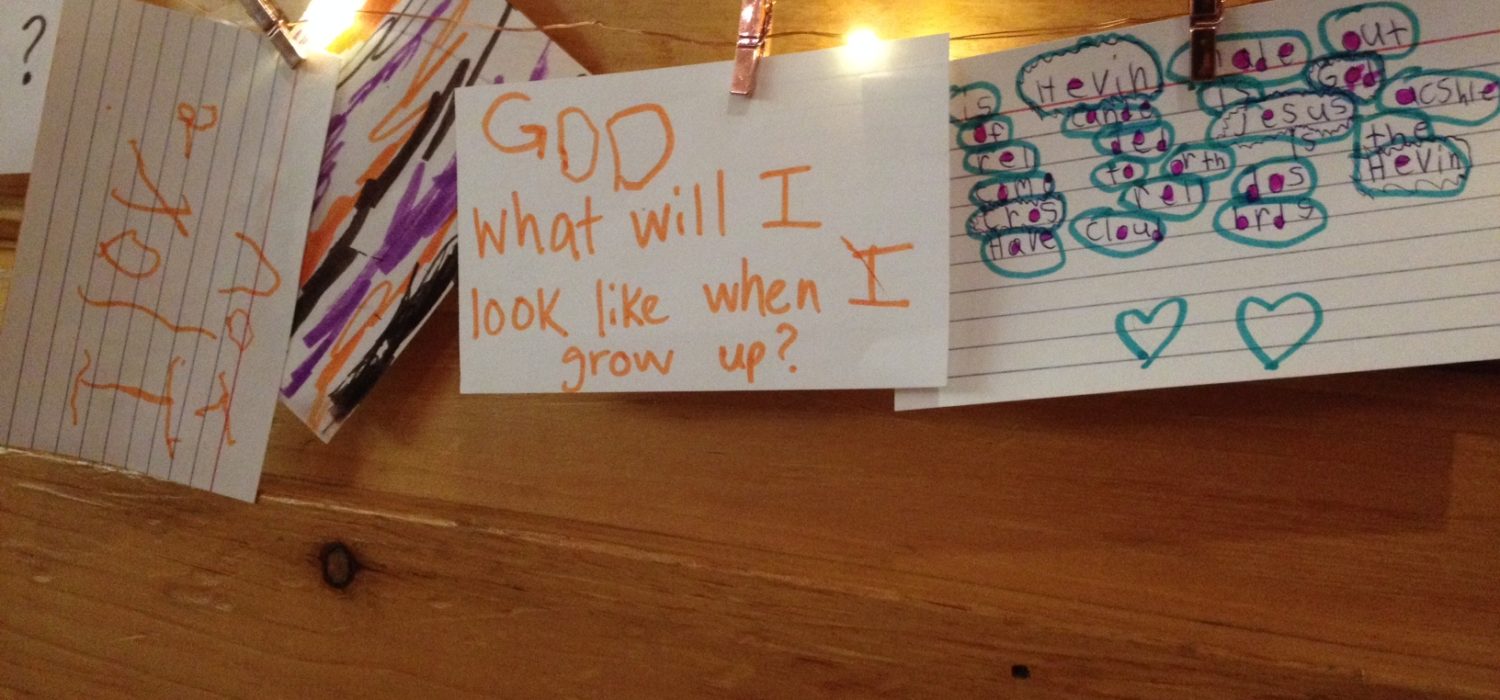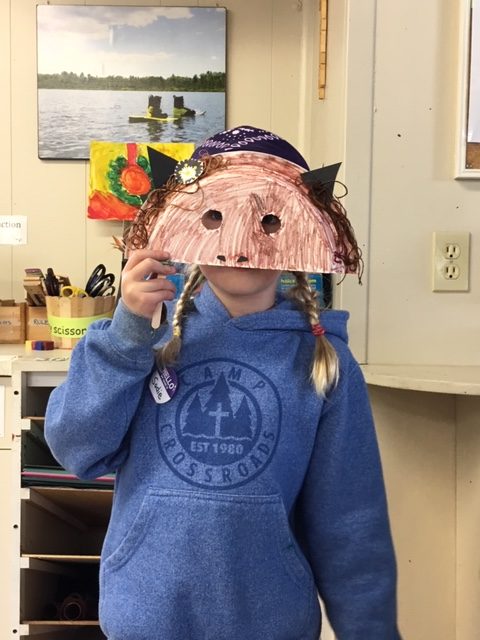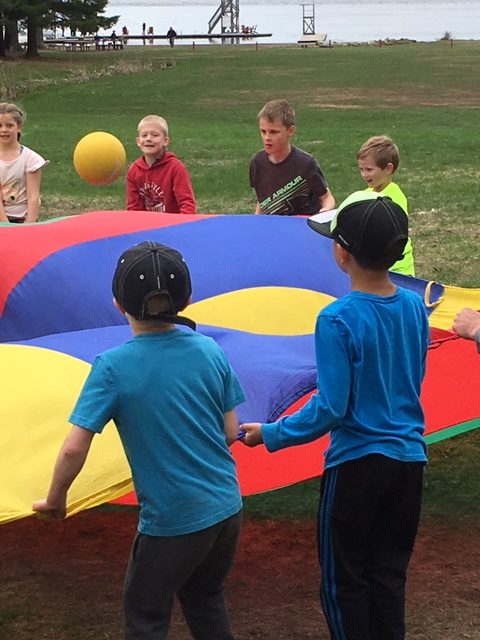 What's PeeWee Camp?
Finding God in every moment
Friendship
PeeWee Campers stay with their families in cabins but have their own specialized program all day. This 48 hour mini-camp is a great introduction to cabin life that helps to build a young camper's confidence with the whole overnight camp experience.
Faith
Chapels are especially geared to this age group. Lessons are simple and short with different teaching tools and activities to explain the Bible lessons. Singing is fun with lots of actions!
Fun
Our staff provide creative program activities throughout the day and, if the weather cooperates, they may even get to ride in one of our giant voyageur canoes.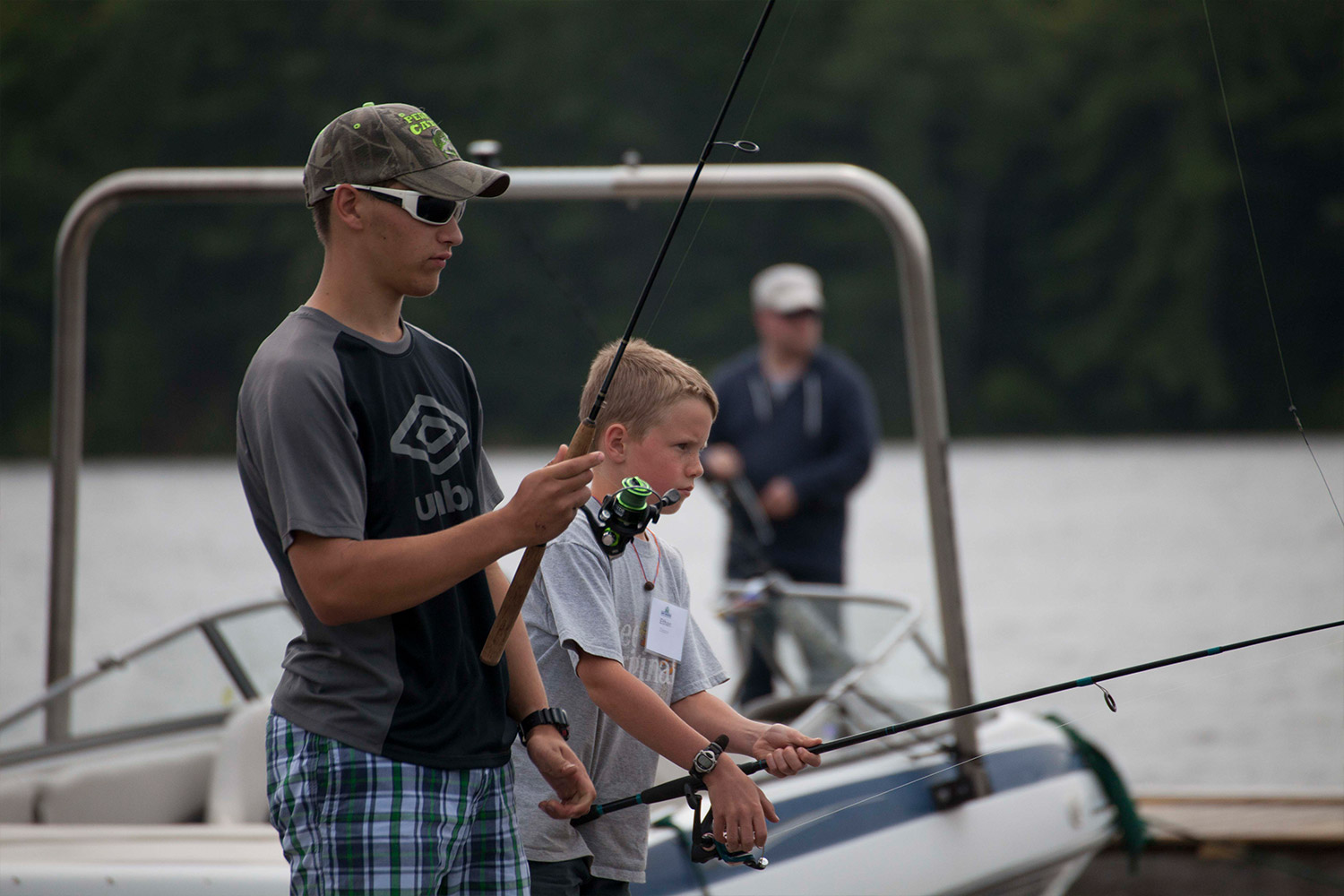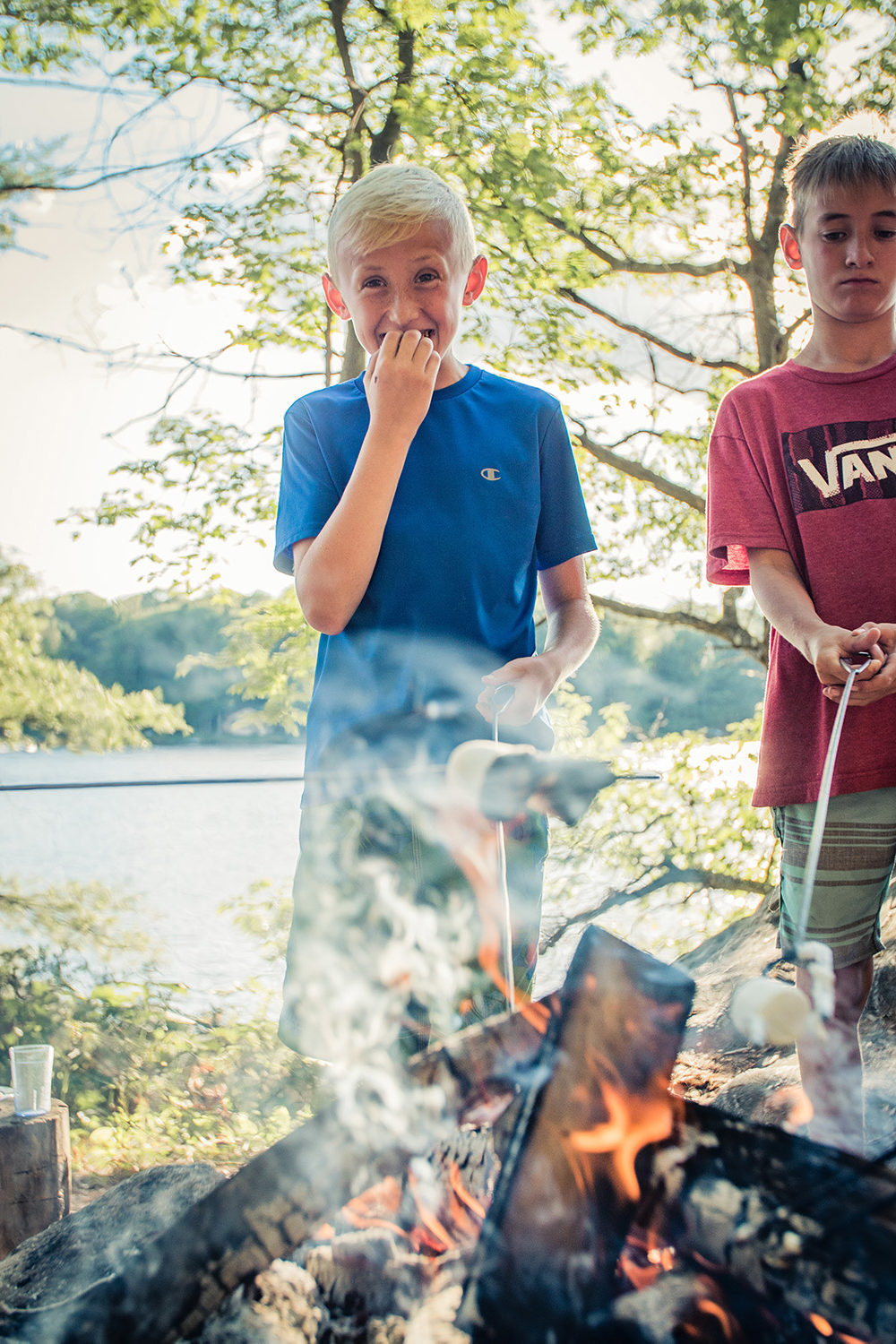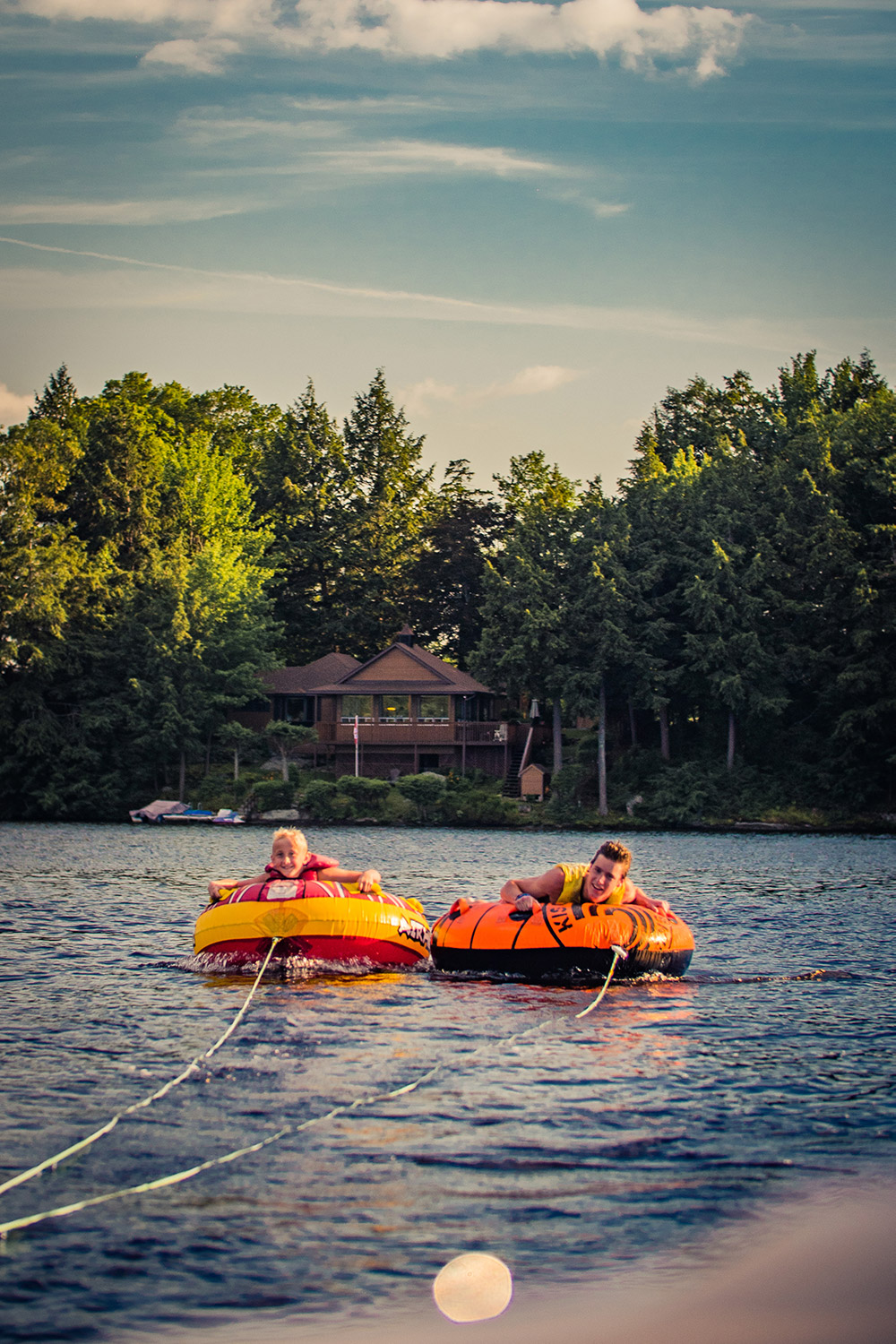 (AKA Dad's & Kids Fishing Weekend!)
What is the Parents & Kids Fishing Weekend about?
For years we have hosted a "Dad's & Kids Fishing Retreat" that we are now generalizing to "Parents & Kids"! Geared to both adults and kids (age 8 years and up), this retreat provides lots of unstructured hang out time that might include fishing, but might also include a lot of tetherball! The schedule revolves around meal times with 4 short devotional sessions as well as fishing instruction for those who want to improve their skills. After that, parents can choose their own adventure with their kids!
If fishing is not your thing – don't worry! There are lots of other fun activities to enjoy at Camp.
Accommodation Options (Fees are per family)
6 Trailer Park Campsites

$200WKD + HST
Includes full water, septic and 30 amp electrical hook-up.
Includes picnic table at your campsite.
Access to Shower House and public washrooms.

Cabins

Cabins have 10 beds (5 bunks) with one bottom bed being a double.)
6 Deluxe Cabins – $345/WKD + HST. Each has a washroom with shower.
4 Standard Cabins – $310/WKD + HST. Each has a sink and toilet, but no shower. Access to a Shower House within a short walking distance.

Grey Gables

4 Units – $365/WKD + HST. Each includes a full washroom with shower/tub and a double or queen bed plus 2-3 singles.
2 Suites – $415/WKD + HST. Each includes a full washroom with shower/tub and a queen bed plus 5-7 singles.
Frequently Asked Questions
Frequently Asked Questions:
Q: Do I need a fishing licence?
A: Anyone over the age of 18 who is planning on fishing needs to purchase a fishing license. You can buy them at Canadian Tire stores or fishing stores. There are several license options to choose from. There are three day, seven day, or a year's license. You also have a choice between purchasing a conservation license or a full sport fishing license. A conservation license is cheaper but, your daily limit of fish you can keep is fewer than a full sport license.
Q: What do we need to bring?
A: You need to bring your own linens, pillows, towels, and toiletries. We provide all your food and make your meals. We will have live bait available for those who are fishing.
Q: What if we need fishing gear?
A:If any of you don't have fishing gear please contact the camp office so we can have enough gear here for you to use.
Per Person Fees
Each family will pay a per person food service/program fee in additional to the family accommodation fee.
Adults & Teens - $60+HST/wkd
Fishing Kids 8-12 - $35.50+HST/wkd
PeeWee Campers (6-8) - $95.50+ HST/wkd
Children 2-5 - $30+HST/wkd
Children 0-1 - no charge
Family Camps
Discover the Wonder
Our family camps are designed to give families a chance to enjoy all the experiences of camp together. We provide structured and unstructured time for families to spend together enjoying nature and activities. We have two daily chapels with sessions geared to the specific age groups of adults, teens, young and older children. Each member of the family will be fed spiritually throughout the week.
Register
Learn More
Day Camps
Discover the Wonder
Each camp week consists of various activities including swimming, canoeing, crafts, games, nature hikes, low ropes course, singing, storytelling, drama, day trips and theme days. Camp Crossroads Day Camp provides a fun and safe environment for children where they can create and grow lasting relationships.
Register
Learn More